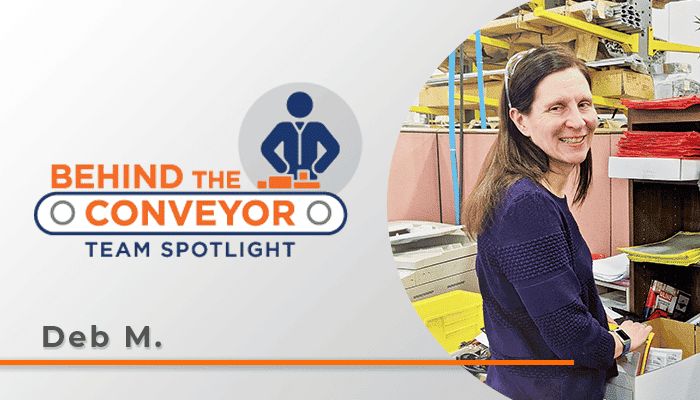 Behind the Conveyor – Team Spotlight
Dorner has become a global brand in conveyor automation – and that's all thanks to our team. In this blog series, we highlighted talented professionals whose dedication and passion are making a positive impact on your conveyor systems. These are the faces behind the brand who are helping to transform conveyor automation … and having fun doing it!
Meet Deb M.
To say Deb knows how to jump in and solve problems is an understatement. At Dorner, she made a major career shift, moving from accounting to production planner, were she gets to create and oversee all the job orders that come into Dorner. In her new role, she knew she had big shoes to fill, but went headfirst into her position.
"What's rewarding about my position now is all the different problems I've had to solve. The person before me was here for over 20 years and took care of everything," she said. "Now they look to me and expect that same level of knowledge which I want to deliver every day. To me, it's being able to see an actual order come in, then see it being built and go out the door. It's being involved in the actual operations of the company that I love most."
In her personal life, Deb steps in as a serious problem-solver, serving as a volunteer firefighter and EMT.
"I do it to give back to my community, to help people on their worst days," she said.
Tackling problems and being part of the solution is who Deb is. Being able to use that passion at Dorner is fulfilling. She is excited to work in the booming manufacturing industry, as well.
"I think manufacturing is good because you can physically see what's being done, you're physically making a product, you can see the output of your work," she said. "Knowing that what you do will satisfy somebody's needs; you're contributing to the overall good of the country."
The Dorner Difference
It's professionals like Deb that go above and beyond each and every day. Our global workforce takes pride in partnering with our customers to optimize efficiency and productivity in their applications. We accomplish this through the design, manufacture, support and distribution of high-quality conveyor systems that meet our demanding standards.
That's the Dorner Difference.